Morgan Wootten, Hall of Fame high school hoops coach, dies at 88
Hall of Fame high school basketball coach Morgan Wootten, considered one of the best coaches in the history of the sport, has died at 88, according to DeMatha Catholic High School, where Wootten coached for 46 years.
The Hyattsville, Maryland school announced Wootten's death on its Twitter account early Wednesday morning.
"The Wootten Family is saddened to share the news that their loving husband and father Morgan Wootten passed away yesterday evening at 9:50 p.m.," the school's tweet said. "Morgan was surrounded by his family in prayer and passed away peacefully as he wished.
"The Wootten Family would like to extend their deepest gratitude for all the prayers and overwhelming support they have received during this time. Arrangements will be forthcoming."
Wootten won five national championships and more than 1,200 games at DeMatha. During his time at DeMatha, the Stags won at least 20 games in every season but 1957-58, Wootten's second season at the helm. They won 33 Washington Catholic Athletic Conference championships. He was inducted into the Naismith Hall of Fame in 2000, the third high school coach to earn that honor, and retired with a 1274-192 record in 2002.
North Carolina places four recruits in McDonald's All-American Game; Duke gets three, Kentucky two
DATE

Apr 1, 2020

EVENT STARTS

4:00PM
You gotta love this kid behind Bill Self dressed as Dr. James Naismith - complete with Peach Basket!
New York Knicks' Mike Miller says the team has been 'resilient'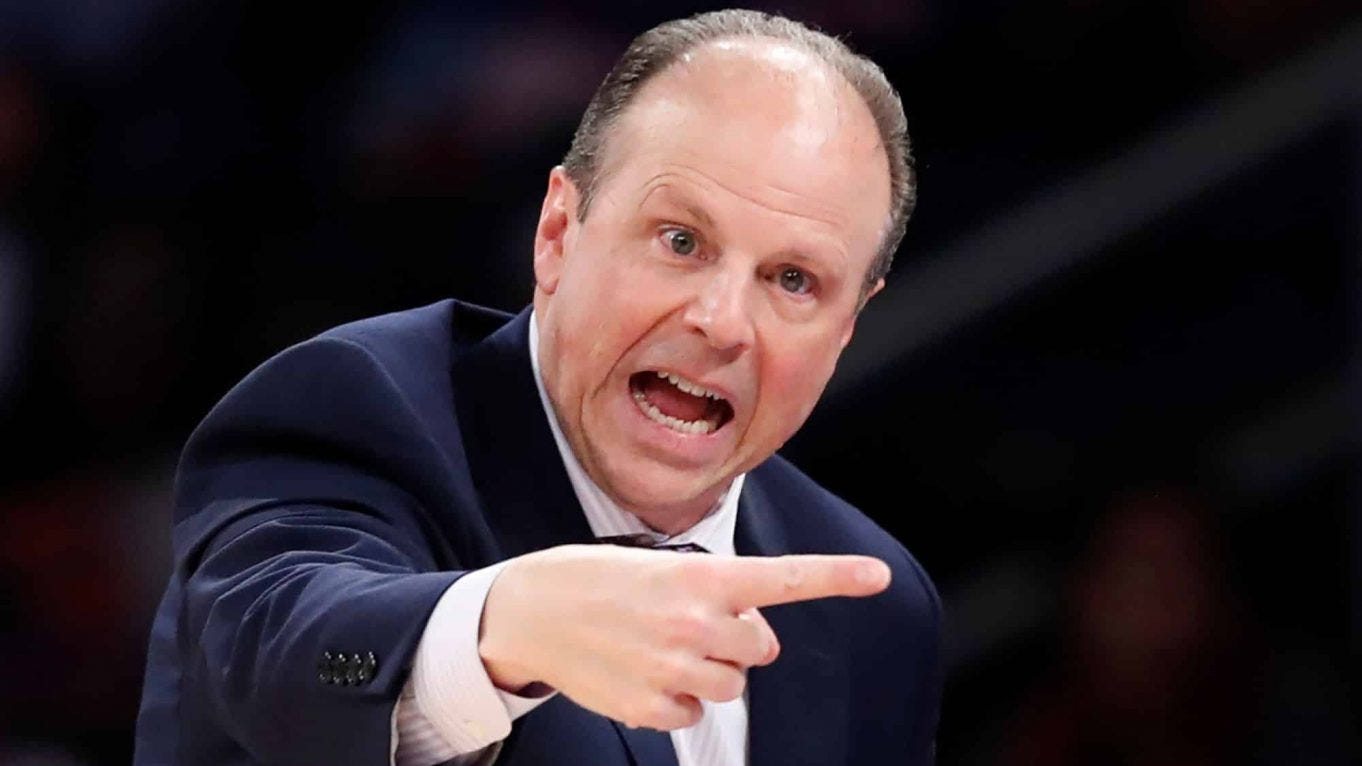 AP PHOTO
New York Knicks interim head coach Mike Miller says his ballclub is remaining 'resilient' through this season's struggles.
It's turning out to be another lost season for the New York Knicks. The team that hasn't reached the postseason since the 2012-13 campaign is currently 11-32 and in 14th place in the Eastern Conference.
Their latest stretch of games hasn't done any wonders for them either, as the Knicks have dropped eight of their last nine. It's been a rough go-around, to say the least. Nevertheless, interim head coach Mike Miller says his team is still attempting to progress.
"This group has been resilient, but they're also looking to move forward," Miller said on Sunday, per SNY. "We're not interested in can we play close, we're going to put ourselves in a position to win and find a way to win."
The team's next matchup will take place on Monday against the Cavaliers. Tip-off is set to occur at 5:00 p.m. ET in Cleveland. The Cavs are one spot ahead of the Knicks in the standings, possessing a 12-31 record.
Bob Kloppenburg's SOS Pressure Defense | Part1
Bob was a great high school and college player years ago, and became a high school coach. He went on to coach very successfully at the college level for 22 years at Cal Western, with a tremendous winning record and a number of trips to the NAIA national tournament. He has coached at the professional level with the Seattle Supersonics, and also with the Rockets, Nuggets, Raptors, Bobcats, and Clippers.

Bob has developed and tweaked his SOS defense for over 50 years. His SOS Defense has been used by high school and college teams around the world. In the USA, he has conducted over 20 SOS clinics, as well as clinics for basketball federations in 14 other countries.
Bob Kloppenburg is a defensive genius." - Pat Riley, NBA Coach Retired
What is the SOS Defense?
This is a basic introduction and overview of the SOS defense. Rather than reinventing the wheel, where diagrams and details are necessary, I have simply provided a link to Coach Kloppenburg's website. Any coach or player who wants to learn more and implement the SOS system will definitely want to purchase Coach Kloppenburg's DVDs, books or ebook (see below).

The SOS Pressure Defensive system is based on the concept of total disruption. The defense is proactive and attacks the offense, forcing offensive players into uncomfortable positions on the court, where scoring is difficult. Instead of the defense reacting to what the offense is doing, the offense finds themselves reacting more to the defense than vice-versa. The SOS defense stops scorers, decreases second shot chances, and dictates the game tempo. You can generate a lot of "offense off defense" with the SOS.


Implementing SOS Tactics
In implementing the SOS tactics, Coach Kloppenburg puts it in perspective. If you already have a pretty good defensive system, rather than completely changing it, just add those SOS tactics that you think might help within the framework of your own defense.

On the other hand, if your current defense is not very good and you want a complete overhaul, then go full force into the entire SOS system.
---
Six Keys of the SOS System

Key #1 - Fundamental Player Defensive Skills are Taught in a Simple to More Complex Progression
No defensive system will work if your players are not skilled in defensive fundamentals, both on and off the ball. And no system will work if players are not motivated to play great defense. You have to make it a priority, instilling enthusiasm, a work ethic, and pride in playing great defense.

The teaching breakdown begins with 1-on-1 techniques and drills, progressing to 2-on-2, and up through 5-on-5. When first introducing drills, it takes a little longer, with important focus on details and doing things correctly. Subsequently, quick, short "reinforcement" drills are done every day to continue to sharpen and make the necessary skills automatic.
Key #2 - Communication - Key S-O-S Words Identify and Trigger Defensive Actions
Coach Kloppenburg stresses certain key words for defensive communication. Each key word begins with one of the S-O-S letters. Just like the commonly used defensive terms of "ball", "deny" and "help", so it is with the SOS key words. They help players communicate and work together as a unit. Talking is stressed in practice and games.

On-ball defensive keywordsare "Set", "On", and "Smother". "Set" refers to the specific body stance and movement required to force the ball handler to put the ball on the floor rather than to shoot or pass. "On" refers to a body position that the defender assumes when guarding and forcefully guiding a dribbler to a checkpoint. "Smother" is the "in your face" stance and movement used to put maximum pressure on the ball handler attempting to shoot or pass.

Off-ball keywordsare "Snuggle", "Off" and "Strike". For switching screens, "Screen", "Over", and "Switch" are keywords.
Key #3 - Defenders Force Offensive Players to Specific Checkpoint Areas on the Court
Forcing opponents into uncomfortable areas of the court (where scoring opportunities are poor) is a main key of the SOS defense. Coach Kloppenburg calls this "Operation Checkpoint". Defenders are taught how to direct the offensive player away from high percentage scoring areas to low percentage "checkpoint" areas.
Key #4 - Switching 2-on-2 Screens
Aggressive switching of on-ball and off-ball screens is an important aspect of this tough, pressure defense. Switching helps eliminate confusion and defensive hesitation and when done correctly and aggressively, can frustrate and force the offense away from what they originally intended to do. Keywords "Screen", "Over", and "Switch" are used.

Coaches often debate how to best defend screens. Some simply will never switch, not wanting mis-matches. Coach Kloppenburg has been around a long time, at every level, and has seen what works best most of the time. He teaches automatic "contact switching" on all on-ball and off-ball screens, and presents very solid reasons for this.
Key #5 - Stopping the Fast Break Begins in the Backcourt
To stop an opponent's aggressive transition, fast-breaking offense, coaches stress "get back on defense!" Yes that's important, but Coach Kloppenburg also wants to start pressure in the backcourt by getting to the outlet pass, and stopping or forcing the dribbler to a checkpoint area, while other defenders sprint up and deny the long passing lanes up the court. Start working the offense right away... don't let them be the aggressor.

He also discusses full-court presses ("Basic Shadow", "Shadow Up", "Shadow Face", "Shadow Blitz" and "Shadow Lock") and half-court presses ("X" and "Red" presses).
Key #6 - Each Defender has a Clear-Cut Specific Role
The SOS system is truly a "team defense", not just five individuals. All are communicating and working together. Each player has a specific role and must follow the rules and rotations. Little is left to chance as all the possible scenarios are covered.

The entire team takes on the enthusiasm of playing nasty, tough defense, working together like a machine, forcing the offense out of their comfort areas. Success breeds excitement and pride in your system, pride in playing tough defense. Tough defense frustrates and annoys the hell out of opponents.

Tough defense is what leads to upsets. Your team may not be a an offensive powerhouse, but it's not so bad if the opponent can't score either! Underdogs take heart... the SOS system can be an equalizer.
PART 2 COMING TOMORROW
---
---