Detroit basketball coach says AAU does 'disservice' to recruitment process
George Ward believes he has some of the best boys basketball players in the state on his Detroit Martin Luther King high school team. He just wishes more people would pay attention to them.
After King (9-2) defeated Division 2 power Detroit Frederick Douglass (8-2) on Friday night, 55-46, where both teams struggled offensively but with King excelling defensively, Ward lamented about the attention, or lack thereof, two of his top players have received.
San Diego State improves to 19-0 with 68-55 victory over visiting Nevada
JAN. 18, 2020
Give San Diego State's basketball team this much. It has chutzpah.
Remember how they used to wear red uniforms and had some of their most wrenching losses in recent history in them, and then stopped wearing them because of that?
And how they brought them back earlier this season against San Jose State, picked to finish last in the Mountain West, and needed a last-second 3 by Malachi Flynn to avoid what one stats guru said would have been the biggest upset in modern college basketball history?
Well, they wore them again, as part of a red-out theme at Viejas Arena.
Kirby Lee-USA TODAY Sports
NABC to Introduce Championship Basketball Clinics
KANSAS CITY, Mo. - The National Association of Basketball Coaches (NABC) is proud to announce its collaboration with Championship Productions for a new series of regional basketball coaching clinics -- the NABC Championship Basketball Clinics.
The NABC and Championship Productions, a longtime leader in coaching education, will be hosting a total of eight regional basketball clinics in Fall of 2019 and Spring of 2020. The vision is to host some of these events on college campuses and other great regional venues throughout the United States.
"The NABC Championship Basketball Clinics will provide a terrific opportunity to grow the game and help educate the next generation of coaches around the country," said NABC Executive Director Jim Haney.
The NABC Championship Basketball Clinics are a reinforcement of the shared vision between NABC and Championship Production of educating the next generation of coaches. The NABC will now be positioned to provide year-round professional development opportunities for coaches at every level. The 2019 Fall Clinic schedule is listed below. Additional dates for the upcoming year will be announced soon.
The College Basketball Experience
September 13 - 15, 2019
September 20 - 22, 2019
September 27 - 29, 2019
For registration information, please visit here
In case you missed this…
Attorney: Desert Vista reinstates basketball coach Gino Crump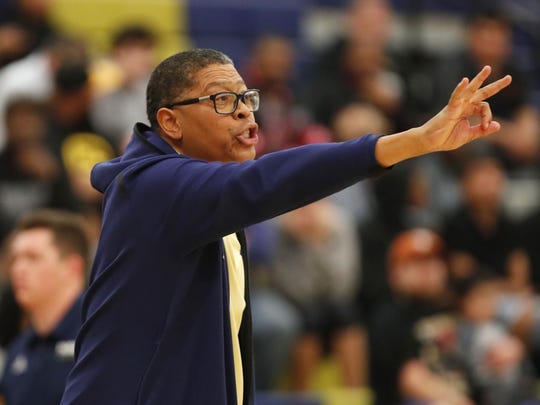 (Photo: Michael Chow/azcentral sports)
Gino Crump was reinstated late Wednesday afternoon as top-ranked Phoenix Desert Vista's boys basketball coach, according to Buddy Rake, Crump's attorney.
Crump was suspended and investigated by Desert Vista and the Tempe Union High School District after he had a physical incident with one of his players following an emotional 71-64 overtime win at St. Mary's on Dec. 13.
The school recommended Crump be fired two weeks ago. The TUHSD Governing Board was expected to consider the recommendation at its meeting next week, but that changed after Rake sent a letter to the school and the district this week.
Rake represented Crump during a Phoenix Municipal Court hearing, fighting a restraining order a parent was trying to file against Crump over the incident.
The judge dismissed the order, citing evidence that showed Crump grabbed the player following the game because the player was taunting St. Mary's students. The judge cited a post-game brawl between Cesar Chavez and Skyline players, which had occurred previously, as a reason why Crump was trying to avert a similar situation.
Megan Sterling, spokeswoman for the TUHSD, sent a statement to The Arizona Republic on Wednesday night, confirming that Crump is back as coach.
"After careful consideration and discussion with administration at Desert Vista High School, the decision was made earlier this afternoon to reinstate Mr. Crump as head basketball coach for Desert Vista," Sterling's email said.
"We appreciate the Tempe Union's reconsideration and appreciate their prompt attention," said Rake, who also is the head boys basketball coach at Phoenix Thunderbird High School. "We were able to provide additional information and the district promptly reinstated Coach Crump."
A must, especially for young coaches
The NABC Convention, held in conjunction with the NCAA Men's Final Four, is the nation's premier professional development and networking event for basketball coaches at every level.
NABC Convention attendees participate in engaging clinics and presentations, led by many of the top names in basketball.